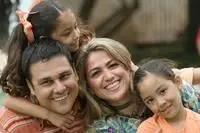 Keeping connected with family and friends back home can be a challenge for busy professionals who are frequently on the road.

Try these tips to bridge the miles :

1) Communicate your travel schedule ahead of time as much as possible, so that family and friends can try to be available when you are in town.

2) Leave notes that family (and especially kids) can find while you are gone, that are tender, caring or even funny!

3) Keep in touch via phone, email or text. When available, use video chat, which is a powerful way to keep connected.

4) Communicate while you are gone, even if it must be brief. Turn your time constraints into a positive, by telling them that you are short on time but that you
wanted to make contact.

5) Keep involved! Ask your family and friends for updates on how and what they are doing. Ask for updates from children and teens every day!

6) Keep them involved! Create a journal online that lets people know where you are and what activities have filled your day.

7) Keep up with social networking sites as you can, so that family and friends feel that you continue to be involved in their lives.

8) Plan and communicate about future social events and family outings, so that all back home know that you are looking forward to time with them.

9) Bring home small gifts, from time to time, to show that you are thinking about the folks at home while you are gone. The more that the gift reflects
their interests, the more they will feel connected to you.

10) Keep in touch with everyone significant to your life -- and remember that even if you don't have a lot of free time when you are traveling, every single gesture counts!